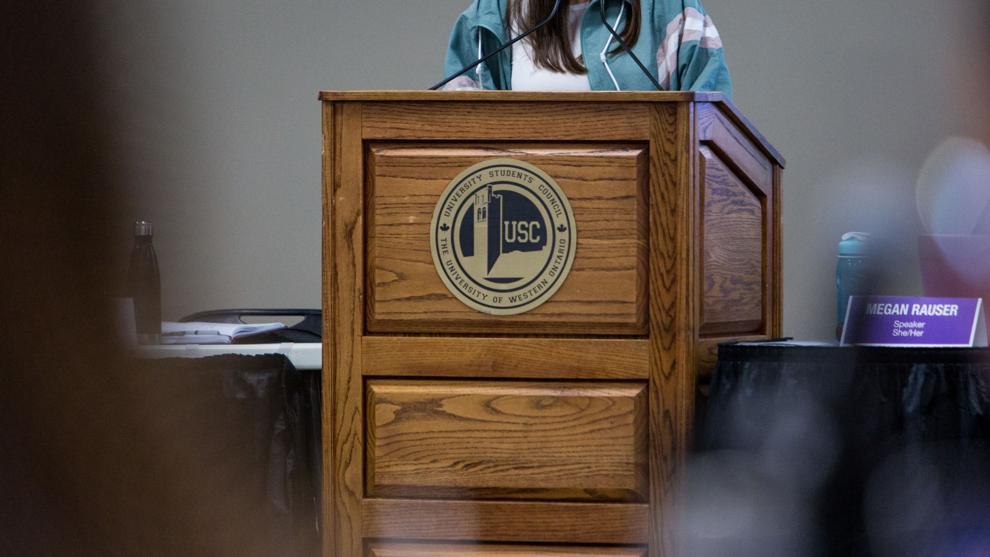 A discussion about the relationship between the USC and its ratified pro-life club, Western Lifeline, was cut short at Wednesday night's council meeting after USC president Ethan Gardner suggested council "obtain legal advice" before continuing talks about the club.
Huron University College councillor Siddharth Maheshwari brought forward a "for discussion" item related to Western Lifeline saying they'd received "many complaints through multiple platforms about the status of the club."
Maheshwari clarified this was not a motion to de-ratify the club, unsure if this was something they could do in council, but rather a topic "students need to see us talking about … addressing their concerns."
"I don't think we're going to get away with trying to shirk from this discourse," said Maheshwari, highlighting both an opinion column and a letter previously published in the Gazette.
Maheshwari said they felt the column, which pushed for the de-ratification of Western Lifeline, had "many salient points, the first being that the University of Ottawa, Carleton University and the University of British Columbia have previously de-ratified pro-life clubs."
They ended by asking the University Students' Council executive what options were to council regarding the club.
In response, Gardner said if the discussion about Western Lifeline "does go to a conversation, I would ask that we obtain legal advice before having this conversation to make sure that all councillors understand the potential ramifications of saying certain things on the council floor that could be published."
"I would hate to see any councillor be put in a position where they are, not accused, but … super slandered," Gardner added. "There's been several instances of this in North America, where certain clubs or certain groups have elected to do this. It doesn't matter if the [law]suit is valid or not. It's the process."
Gardner further explained a club's de-ratification is not in council jurisdiction, but rather in the Clubs Governance Board's hands. The CGB acts as a designated council to create, enforce and amend all USC bylaws, policies and procedures related to clubs.
Gardner told council he would "be more than happy to share" the portal for reporting clubs that have violated policies.
In a statement to the Gazette after the meeting, Western Lifeline's executive team said they "have remained a USC-ratified club for over a decade. We abide by all rules and regulations set out by the USC, and we expect that the USC will treat us fairly."
"While some students may not approve of us because we hold pro-life beliefs, this does not mean we are not in compliance with USC regulations and is not grounds for club de-ratification," the club's executive team added. "Ratification is not a popularity contest, nor is it an endorsement of our views, and the USC has a duty to apply its policies fairly and without discrimination."
No further discussion occurred at the meeting, but Maheshwari told the Gazette they planned to "consult with the executive, councillors and students before suggesting any course of action" and is "looking to follow up on the legal advice bit president Gardner mentioned."
Maheshwari believes the earliest discussion would be in January, as council does not meet in December due to exams and the standing committee meetings for the next meeting have already taken place.
Keemia Abbaszadeh, vice-president communications confirmed that "if council indicates that they would be interested in furthering this discussion, that's when we would consider seeking legal counsel."
---
Correction (Nov. 11, 2022, 5:57 p.m.): This article has been corrected to reflect Maheshwari uses they/them pronouns. The Gazette apologizes for this error. 
https://westerngazette.ca/news/council-s-western-lifeline-discussion-cut-short-usc-pres-suggests-legal-advice/article_c308a776-6201-11ed-9447-7f5e135a53ab.html